Der Straßenlauf ist wieder in vollem Gange. - Foto: World Athletics
2022 – the year when international road racing got back to normal – World Athletics
There have been big city races with mass participation, high-profile clashes between the world's elite distance runners, and numerous records broken across a range of distances.
Road running is back in a big way.
While some World Athletics Label road races in 2022 still had to be postponed or adapted in the face of the ongoing Covid-19 pandemic, road running as a whole is almost back to normal.
Nine Elite Platinum Label marathons have been held already this year, with the 10th and final one due to take place in Valencia on 4 December.
World Athletics Elite Platinum marathons in 2022
Tokyo – 6 March
Winners: Brigid Kosgei (KEN) 2:16:02 CR, Eliud Kipchoge (KEN) 2:02:40 CR
World record-holders Brigid Kosgei and Eliud Kipchoge got their years off to a great start, winning in the Japanese capital with course records.
Finishers: 18,272
Nagoya – 13 March
Winner: Ruth Chepngetich (KEN) 2:17:18 CR
After an enthralling tussle with Israel's Lonah Chemtai Salpeter, Ruth Chepngetich prevailed in 2:17:18, breaking the course record in the world's largest women-only marathons.
Finishers: 8698
Seoul – 17 April
Winners: Joan Chelimo Melly (KEN) 2:18:04 CR, Mosinet Geremew (ETH) 2:04:43 CR
Eventual winners Joan Chelimo Melly and Mosinet Geremew were pushed all the way to course records in the Korean capital in two close races. Geremew won by six seconds, while Melly finished eight seconds ahead of her nearest rival.
Boston – 18 April
Winners: Peres Jepchirchir (KEN) 2:21:01, Evans Chebet (KEN) 2:06:51
Olympic champion Peres Jepchirchir maintained her winning streak to win in one of the world's most prestigious races, finishing just four seconds ahead of Ethiopia's Ababel Yeshaneh. Evans Chebet enjoyed a more comfortable victory in the men's race.
Finishers: 24,607
Berlin – 25 September
Winners: Tigist Assefa (ETH) 2:15:37 CR, Eliud Kipchoge (KEN) 2:01:09 WR
Olympic champion Eliud Kipchoge returned to the site of his last world record-breaking performance and improved on the mark by 30 seconds, setting a world record of 2:01:09. Meanwhile, Tigist Assefa smashed the women's course record – and Ethiopian record – with her 2:15:37 victory.
Finishers: 34,879
Eliud Kipchoge breaks the world record at the Berlin Marathon – Berlin, Germany September 25,2022 – Photo: Victah Sailer@PhotoRun – www.photorun.net – #victahsailer
London – 2 October
Winners: Yalemzerf Yehualaw (ETH) 2:17:26, Amos Kipruto (KEN) 2:04:39
Yalemzerf Yehualaw got the better of defending champion Joyciline Jepkosgei in an enthralling duel, while Amos Kipruto made a similar late-race break to take the men's title.
Finishers: 40,578
Chicago – 9 October
Winners: Ruth Chepngetich (KEN) 2:14:18 WL, Benson Kipruto (KEN) 2:04:24
Ruth Chepngetich came within seconds of the world record to win in 2:14:18, the second-fastest time in history. Benson Kipruto, winner in Boston last year, added another US big city marathon win to his collection.
Finishers: 39,420
Amsterdam – 16 October
Winners: Almaz Ayana (ETH) 2:17:20 CR, Tsegaye Getachew (ETH) 2:04:49
Ethiopia's 2016 Olympic 10,000m champion Almaz Ayana ran the fastest marathon debut in history to win in the Dutch capital, holding off former track rival and compatriot Genzebe Dibaba. Tsegaye Getachew made it an Ethiopian double, winning by just five seconds from Titus Kipruto.
Finishers: 12,669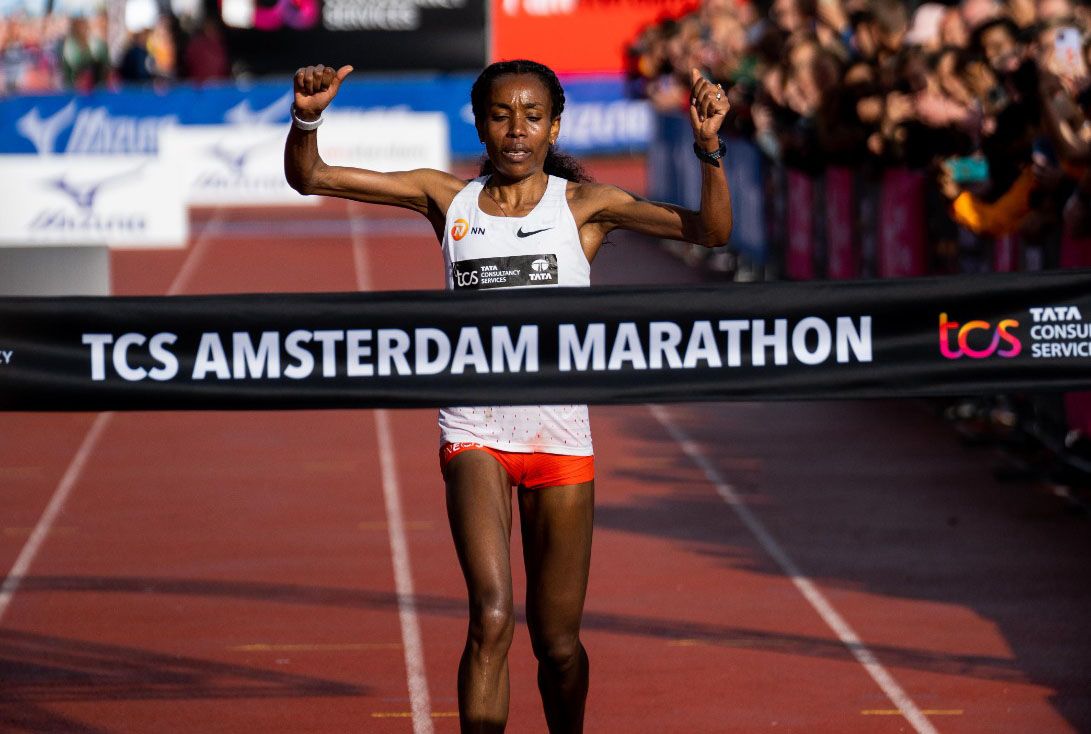 Almaz Ayana wins the TCS Amsterdam Marathon (© NN Running Team)
New York City – 6 November
Winners: Sharon Lokedi (KEN) 2:23:23, Evans Chebet (KEN) 2:08:41
Kenya's Sharon Lokedi pulled off one of the biggest road-running surprises of 2022, winning the New York City Marathon on her debut at the distance and beating many established stars of the sport. Evans Chebet added to his Boston win from earlier in the year.
Finishers: 47,839
Valencia – 4 December
Elite field: includes Letesenbet Gidey, Sutume Kebede, Tiki Gelana, Tigist Girma, Etagegne Woldu, Amane Shankule and Tadelech Bekele in the women's race, and Getaneh Molla, Tamirat Tola, Dawit Wolde, Jonathan Korir, Hiskel Tewelde, Chalu Deso and Gabriel Geay in the men's race.
Places: 30,000
For the masses
It's not just elite runners who have been able to enjoy top-quality road racing. Events in most corners of the world have been able to stage mass races of some sort in 2022.
That looks set to continue in 2023 too, not just with Label road races but also at World Athletics Series events.
The World Athletics Championships Budapest 23 will have a mass participation road race held during the championships. Meanwhile, the World Athletics Road Running Championships Riga 23 will be a festival of road running, combining elite and mass-participation races over a range of distances. Registration for that opened recently.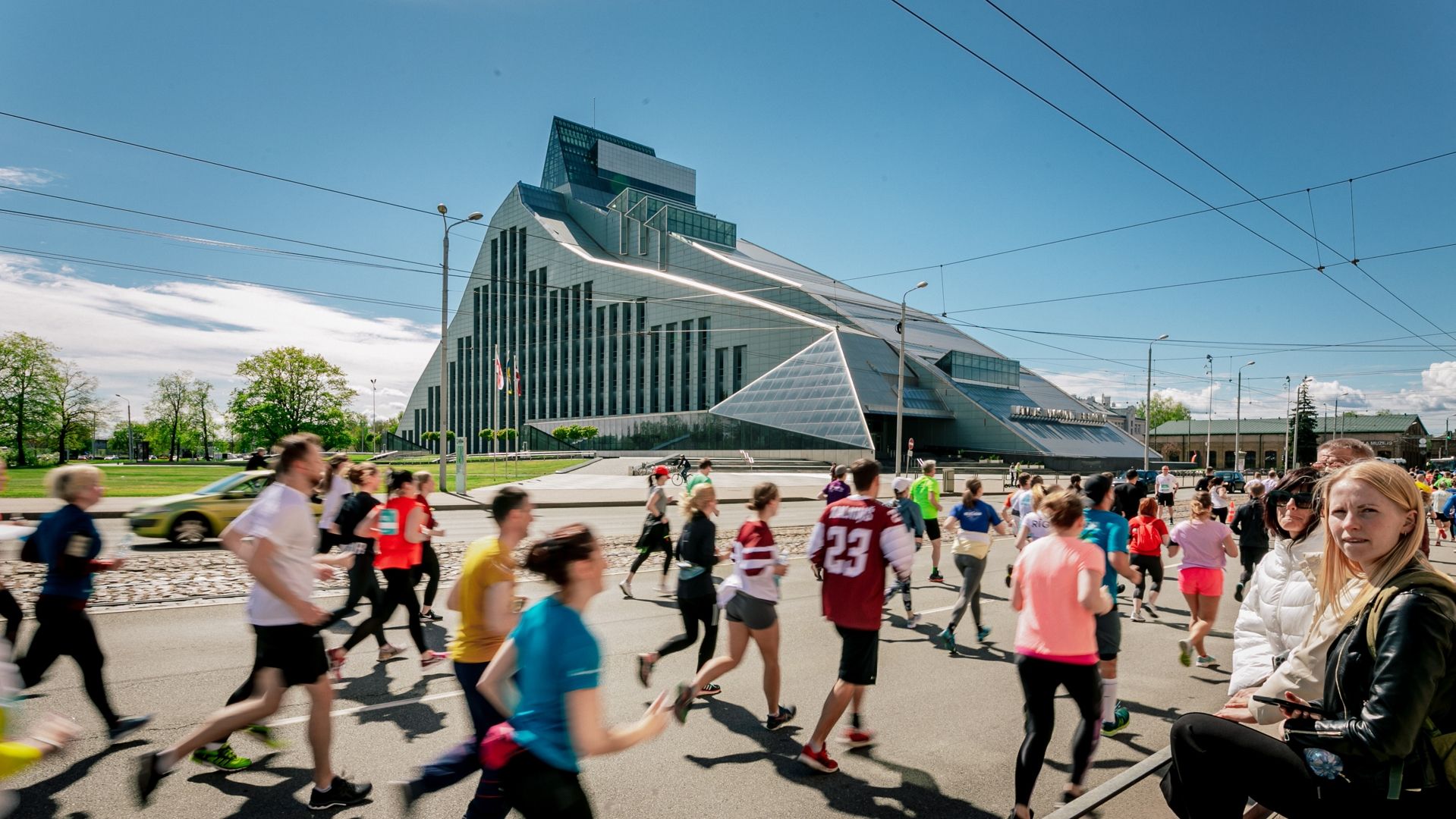 And, of course, at the start of the year the World Athletics Cross Country Championships Bathurst 23 will also have several mass races, including relays. Registration is open now. The event will also incorporate the World Masters Athletics Short Course Cross Country Championships with relays and individual races for a whole range of age groups.
So while 2022 was a great year for road running and mass participation events, 2023 looks set to be even bigger and better.
Source: World Athletics